Living the Good Life?

"We are Living the Good Life
"I simply adore the peace and tranquility of La Rose Blanche"
"Probably the best residential mobile home park for the over 50's in France"
"Paradise, Joie de Vivre, Perfect"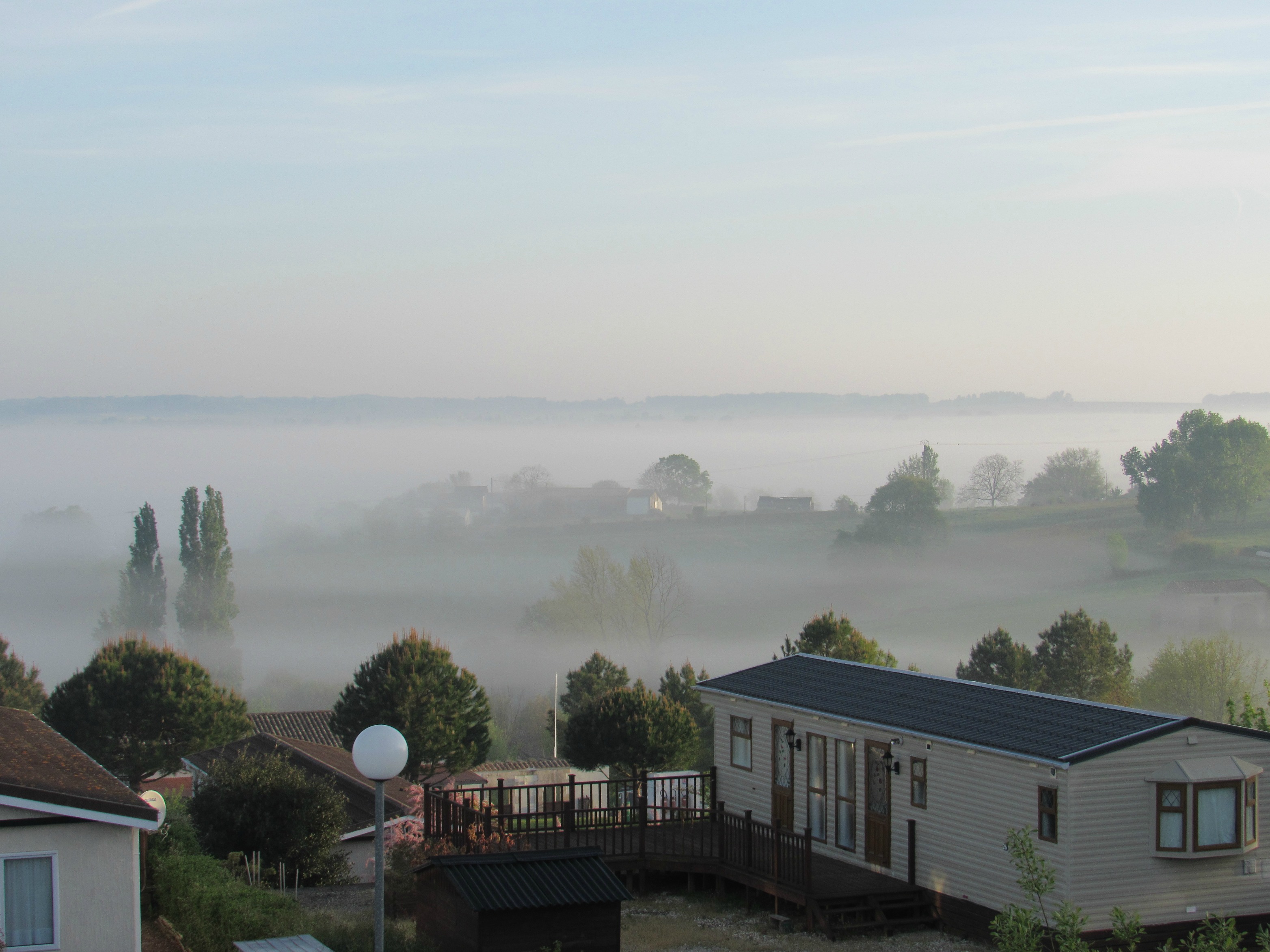 Introduction: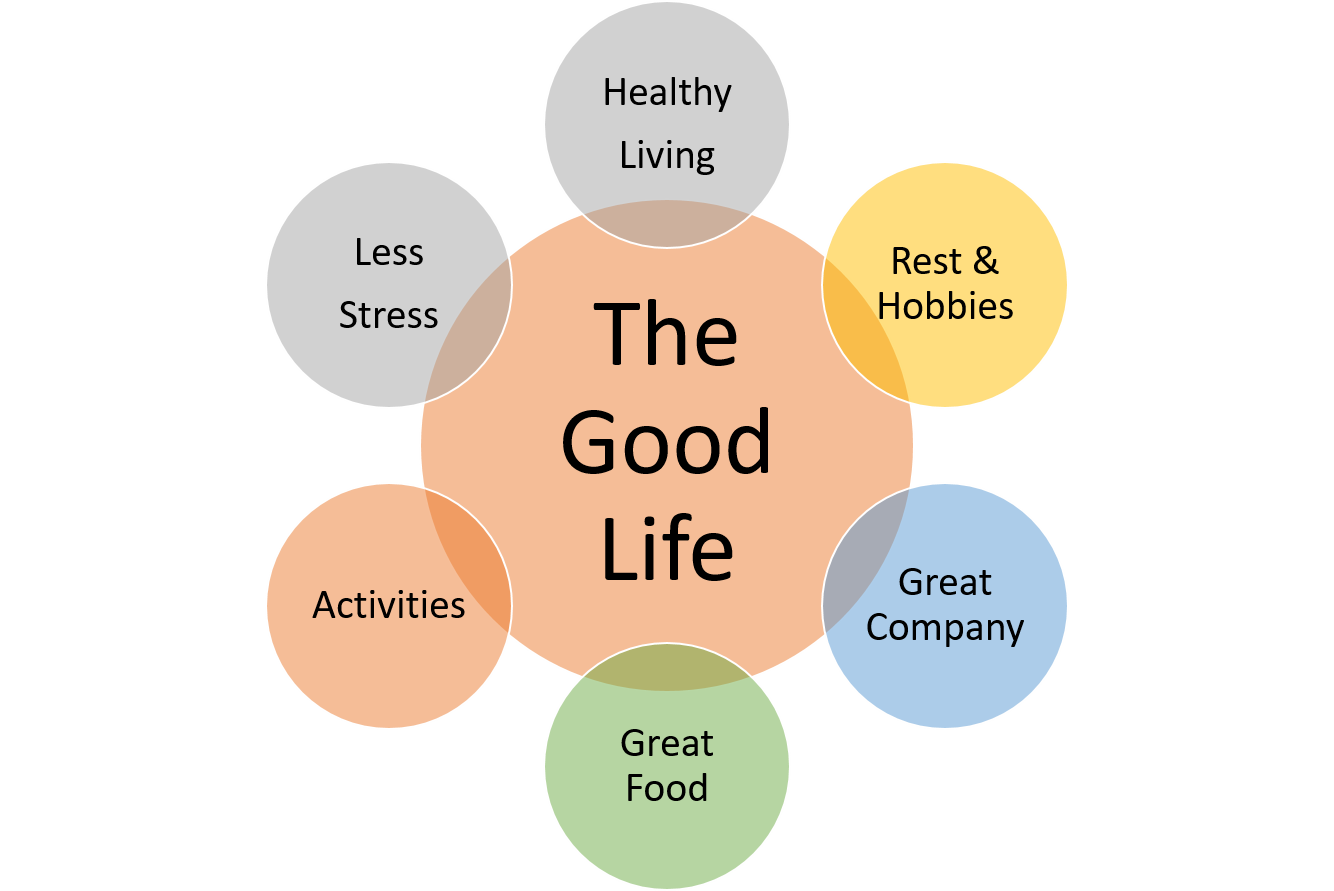 Nestled on a hillside in Nouvelle-Aquitaine, La Rose Blanche, is a well established fully residential (i.e. all year round) mobile home park set on 17 acres in the heart of Cognac country.
Overlooking the rolling French countryside amongst seemingly limitless vineyards; the area is blessed with a diverse array of birds and wildlife due to its proximity the massive Gironde Estuary as it channels the waters of the River Garonne into the Atlantic. 
It is the perfect place and base for either a holiday home or permanent living.
Every mobile home at La Rose Blanche enjoys panoramic views over the countryside and a grandstand seat for the spectacular sunsets and starry nights. Blessed with big skies and a pleasant climate . . . 
"We are Truly Living the Good Life"

Less Stress
If you want to enjoy the good life in your later years and after retirement it is important to reduce stress and be able to relax. In fact the good life is as much about what is not as what is!!
It won't take you long to realise one of the GREAT benefits of moving to La Rose Blanche is a dramatic reduction in your stress levels. To start with - getting around in France can be so much more relaxing, by and large . . .
Crowds - Gone!

Rush hour traffic and traffic jams- Gone!* 
Streets clogged with parked cars - Gone!
Potholes and poorly maintained Roads - Gone! 
Reasons for not engaging cruise control - Gone!

If you regularly to and fro to the UK by car on any of the numerous car ferry/tunnel services you'll soon notice your stress levels quickly drop once you are on the French side of the English Channel (La Manche). Shortly after you exit your port of entry you'll enter the well-maintained French road system and your GPS will switch from telling you to change direction every mile or two to every few hundred kilometers.  Time to switch on cruise control and relax as you safely speed through the French countryside.
Before long you'll be passing the little pond outside La Rose Blanche and enter the tree-lined drive up to your mobile home. Once home your stress levels will step down yet another notch or two as you enjoy a bottle of local wine under a spectacular sunset all from your own deck. As evening pushes into night La Rose Blanche switches of the street and footpath lights for you to enjoy a perfect canopy of stars and look forward to possibly the best nights sleep you've had in years - serenely quiet and tranquil with only the odd owl to break the silence.
Refreshed and stress-free you contemplate the day ahead - breakfast on the deck with gorgeous views of the ever-changing rural French countryside; or pop down to the village square for a grand café crème and a pain au raisin whilst you watch the world go by;  or grab a book from the library, a drink at the bar and relax by the pool all afternoon.
* the French holiday period in August is something of an exception to this.
Healthy Living
La Rose Blanche is situated on a small hill with clear views to the horizon, two small windmills, vineyards and the Gironde estuary where the River Garonne runs down from the beautiful Unesco heritage city of Bordeaux out into the Atlantic between charming coastal towns.
This local environment provides a health-living backdrop to life at La Rose Blanche. The air is fresh and pure - free from pollution. A vast area around the Gironde estuary is a conservation area for the flora and fauna of the surrounding flat wetlands. You will see migrating birds and geese in their thousands at certain times of the year migrating South to North Africa. Deer abound and can often be seen on site and near local woods.
Walking is a superbly healthy pastime and you'll find there are plenty of lovely walks through woods, vineyards and hamlets all around La Rose Blanche. La Rose Blanche is pet - friendly too (a single animal is permitted), so you'll be able to walk your dog or your tortoise!  
The walks are all relatively gentle and the small country lanes have very few cars or tractors and those you do meet are courteous if they see you have a dog off the lead. The local farmers are very tolerant of us walking through their fields and vineyards and will always return a smile and a wave.
The roads are also good for cycling and cyclists from La Rose Blanche venture much further afield, but again the roads make cycling both enjoyable and safe. They often cycle out to the flat conservation areas like Vitzeray around the Gironde estuary and stop off at a local café/bar for a bite to eat and some refreshment - making a pleasant, healthy and stress-free day out. 
Rest & Hobbies
La Rose Blanche offers the good life seeker the opportunity to start up new hobbies or rekindle hobbies you once enjoyed. You'll find the opportunity to enjoy many different activities on site or at local clubs. 
Anything from Golf to Gardening. We have a local 9 hole golf course which is both affordable and enjoyable. We have a number of allotments for those keen gardeners. We also welcome volunteers to help maintain and develop La Rose Blanche's own gardens, potted plants and shrubs around the clubhouse or on your own deck. There is also a gardening club in nearby Beignes. 
One resident enjoys a miniature train set - set-up in his garden shed, another astronomy. The clubhouse has a regular arts and crafts day where you can take any craft project, learn to sew and make jewellery or learn the rudiments of painting with watercolours (Beginners). We also play Boules. There are local clubs to learn French, Watercolour Painting, Gardening, Yoga and Thi Chi, etc..
This website keeps you informed as to what's on at La Rose Blanche or locally. France offers many free or very affordable entertainment events throughout the year such as Brocantes for those into antiques, music festivals., etc.
You will also have plenty of GREAT places to do absolutely nothing other than contemplate the world or pray. Your Deck, Poolside, Clubhouse Terrace, the Boulangerie, Bar du Commerce, Bar Tabac, Les Antilles or our local church (l'église) all provide a a place to unwind, watch the world go by or reach inside yourself for greater mental health and wellbeing.   
Great Company
The local French are fantastic, happy and hospitable people and you will enjoy many a shared joke with them but sometimes it is nice to come back to La Rose Blanche's largely English village-like community amongst your friends - of a similar age and with the same interests and outlook on life … and who speak English. It is good to communicate in French but it can be a bit of a strain sometimes with many humorous outcomes - but the French really love it when we try.
Nobody will force you to attend any event so pick and choose to suit yourself. Enjoy the company or fellow residents at our Sunday lunches and bring along your special dessert creation or join us for a drink when the bar is open for members. Enjoy the company of fellow songsters at special karaoke nights and have a flutter on the Friday meat raffle or win a full house or a line on our Bingo sessions (Sometimes held in French to practice your French numbers!)
Join the Boules team, walking and cycling groups and get together for pool parties and BBQs on your deck or communal BBQs at the Club or Pool. 
Ladies! There is a coffee club every Monday morning - 1 euro charge, where you can catch up on what's going on and the money raised from the sale of coffee goes toward a ladies day out at a local restaurant. 
Great Food
Great food is an essential ingredient in any Good Life recipe!
France has always claimed a place in the gastronomic annals of the world and good food abounds everywhere. Whether it is the classique sandwiche with simple artisan bread, classic white ham (jambon) and cheese with a bottle of Bordeaux or a gourmet meal or at our local 5 star Chateau Hotel in Mirambeau or street food outside of Bordeaux Station. The food is GREAT!
Sunday lunch at the clubhouse is no exception with traditional English fayre. From the clubhouse kitchens comes roast pork, beef or lamb,  with yorkshire puddings, roast potatoes and vegetables. Dessert is provided by residents and provides an amazing array of 'super puddings' such as Pavlova, Trifle, Treacle Tart, Tarte Tartine, and much more, as well as a selection of cheese and crackers. Wine is available at the Bar for members.
Charcoal BBQ's are flashed up for pool parties and parties on the Clubhouse Terrace.  BBQ's on the decks of homes at La Rose Blanche are permitted but only gas barbecues, for obvious reasons, and to comply with local ordnances.
Locally there are many reasonably priced restaurants/cafés with the menu of the day (menu du jour) consisting of entrée, main course and dessert for around Euro 13.50 - 15.50 which sometimes includes a small carafe of wine or a coffee. Try Gigi's Restaurant and the Union Hotel in Mirambeau, Le Cheval Blanc in St Ciers du Taillon which, apart from Monday  when they are closed (fermé) they are open (Ouvert) from 9.00 am to 9.00 pm (Sundays they close at 5.00pm). Most restaurants close between 2.30pm and 6.oopm. 
At the other end of the scale is the Chateau de Mirambeau -  Five Star Hotel in Mirambeau  whose Michelin Star Restaurant provides a gourmet experience in a regal setting. Opening Hours: - Breakfast (Petit-déjeuner): 07:30 – 10:30 - Lunch (Déjeuner): 12:30 – 14:00 - Dinner (Diner): 19:30 – 21:30
Activities
Apart from the activities for healthy living, hobbies as part of the La Rose Blanche community at our local Clubhouse, or local clubs - one of the premier activities and one many people come to live in La Rose Blanche to benefit from is Travel. The location of La Rose Blanche makes it a GREAT base on which to holiday and travel. The Nouvelle Aquitaine Region in general and Charente Maritime area in particular is one of the most popular tourist regions in this vast country.
From the Seaside Resorts of the Atlantic Coast (St George du Didonne, Meschers, Royan, and La Rochelle) down to the Basque Region (Hendaye, St Jean de Luz, and Biarritz) where you will feel the Spanish influence in the culture and food of the area. Great Cities like Bordeaux, Pons and Saintes are well worth a visit, with Paris (and Disney World) just three hours away by high speed Train (TGV).  With the vast vineyards of Bordeaux, St Emilion, Medoc, Cognac and Champagne to explore and taste their local wines and food specialities.  Explore too the medieval villages of the Dordogne and the Lot.
With a great transport system - road, rail and bus travel around the local environment and across France into Europe and Spain/Portugal is a very rewarding activity. The local Tourism office in Mirambeau or the Tourism Office in Jonzac (next to the Jonzac Chateau) make a great place to start your adventures. Fascinating for you and educational and fun for your Grandkids.
Whilst in Jonzac visit Les Antilles - an amazing water world  to take your Grandkids to. Another Grandkid activity that you should make a note of is a visit to Futuroscope Theme Park at Poitiers.

Return to the Home Page Click here