The Area Around La Rose Blanche
La Rose Blanche sits amongst agricultural land some 3 Kms from the small town of Mirambeau.
The Mirambeau Area
La Rose Blanche sits amongst prime agricultural land devoted to vineyards, sunflowers, rapeseed, corn and arable land. It is walking distance (just 3 Kms away) from the small village of Mirambeau which has most things you will need - Doctors surgeries, banks, 24 hour service station, 2 supermarkets, 3 hotels with restaurants including the 5 star Château, Chemist, Garages, small Saturday market, boulangeries, patisserie, hairdressers, florists, cafés and bars.

Cognac and Pineau
Sitting between the Bordeaux AC of Cote de Blaye to the South and Cognac country to the North La Rose Blanche sits in a wine growing area famous for its own speciality fortified wine - Pineau - which comes in both white and red. 

Bordeaux Wine
A couple of kilometres away in Marcillac is one of the largest vineyard cooperatives in France known as Les Vignerons de Tutiac producing affordable Bordeaux red wine (vin rouge) and white wines (vin blanc) of a high standard.
From the beginning of July to the end of August many small local towns in the area host night markets and open air concerts, giving you the opportunity to experience French life in a truly traditional way.
Free tastings at the distilleries will tempt your palate and guarantee to get you buying bottles to take home. 
If you should go to a Tutiac tasting (degustation) don't buy the chocolate enrobed Sauterne marinated raisins - you WILL be addicted!!

Gironde Estuary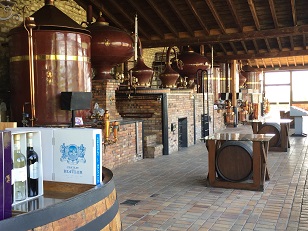 Distillery - Making the Local Red and White Fortified Wine - Pineau.
From La Rose Blanche you can see the Gironde estuary and Garonne River in the distance. The Gironde estuary is Europe's largest estuary. Famed for the heroic exploits of the Cockleshell Heroes during WW2. 
The Gironde estuary separates the Cote de Blaye and Cote de Bourg on one side that mainly produce red wines which they have done since Roman times from the Medoc on the other side. The Medoc made famous more recently for fine red wines such as those of Pauillac - the  great estates of Chateau Mouton-Rothschild, Chateau Latour, and Chateau Lafite-Rothschild to name but a few.   
The Gironde estuary is between 10 and 30 minutes drive. Here you will also find vast conservation areas and scores of little fishing villages and picturesque marinas For example Vitzeray, Port Maubert, Montagne and the picture perfect Talmont.
Ferries cross the Gironde from the fortress city of Blaye about 30Kms South of Mirambeau to the Medoc. Blaye itself is well worth a visit with its Napoleonic fortifications and many good bargain Bordeaux wines of its own. 

Atlantic Beaches
Travelling North West the estuary widens dramatically as it reaches the Atlantic.  Here you will find beautiful sandy beaches (around 30klm) and about 30 minutes by car. Lovely seaside towns like St Georges de Didonne, Royan and St Palais sur Mer all offer safe, sandy beaches and sea-food restaurants aplenty.

Sandy Atlantic Beaches - Royen, Meschers, St George du Didonne, etc.
---
Further afield
The historic towns and cities of Angouleme, Barbezieux, Bordeaux, Blaye, St Emilion, Jonzac, Montendre, Saintes, Pons and the port of La Rochelle are all worthy of a visit, for the younger visitor the zoo at La Palmyre is a popular destination.
For keen golfers the nearest golf course is 20 minutes away at Montendre, although it is only a 9 hole course it is quite testing. There is an 18 hole course at Cognac 40 minutes away. 
For larger outlets and entertainment Jonzac is just a 20 minute drive away.
Further afield:

Bordeaux – 1 hour
Angouleme and La Rochelle – 1 1/4 hours
Poitiers – 2 hours.
Pons - 1/2 Hour
Saintes - Under an Hour.

Ferries
France:
Dunkirk – 8 ½ hours
Boulogne and Calais – 8 ¼ hours
Cherbourg – 5 ½ hours
Dieppe – 5 hours
Le Havre – 5 hours
Caen – 4 hours
St Malo – 4 hours
Spain:
Bilbao - 5 hours
Santander - 6 hours 
All times are approximate and are based on using main arterial routes and toll roads. Junction 37 on the A10 is ten minutes away.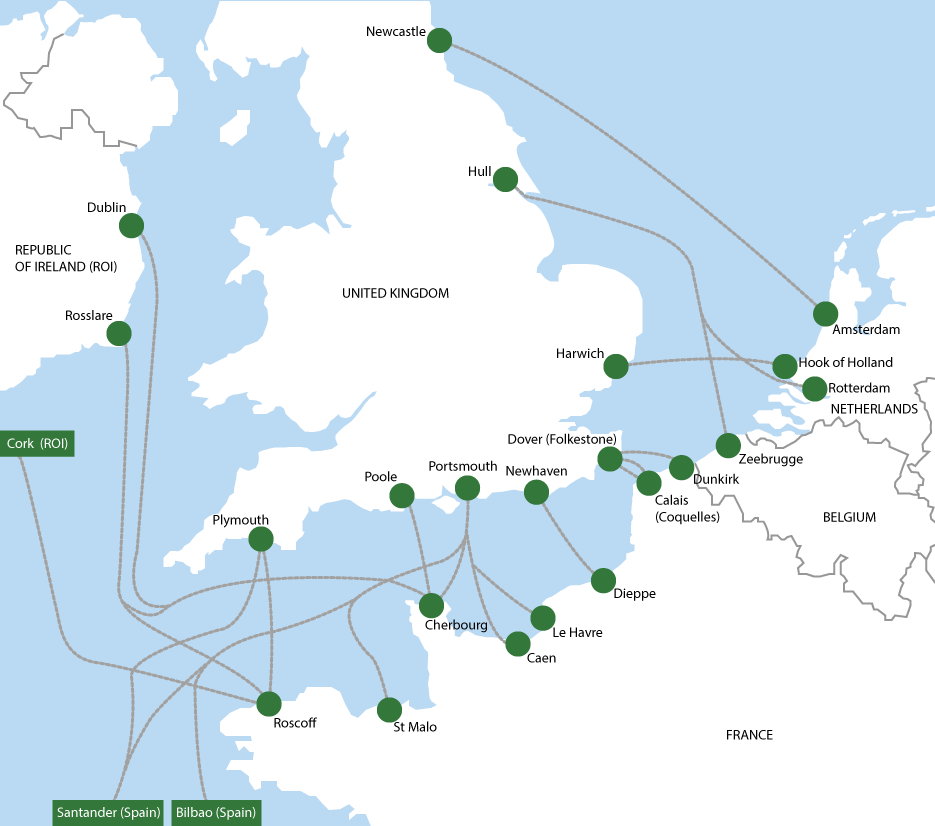 ---
Return to Home Page Click Here
Learn More at Out and About Here