Walking 
Walking the Dog
Stroll the many beautiful walks in La Rose Blanche's lovely landscaped parkland which is especially attractive in Autumn or in the surrounding countryside - walk the dog through country lanes rich with wild fruit and flowers; past chateau, vineyard; hamlet and woods galore . . .

Of course it is not mandatory to have a dog to go walking but if you have you will benefit even more from the beautiful walks in and around La Rose Blanche. 
The GREAT thing is that dogs demand walks which ensures you don't become a couch potato! Walking will reduce your stress levels, help you retire gracefully, appreciate your environment and stay active. It is a great opportunity to talk to yourself - something of a French pastime. This probably accounts for the French being so laid back and happy. If you've got a dog you won't feel quite so bad if caught talking to yourself - you could have been talking to the dog!
For a large area around La Rose Blanche there are beautiful country walking tracks, many of which are suitable for off-road cycling. 
These safe byways are suitable for cyclists or walkers. It must be remembered that many hikers still travel these byways on their 'pilgrimage' walk to Santiago Compostella in Spain and the local town of Mirambeau is on the old pilgrims way.  Indeed the old road that now forms part of La Rose Blanche is called Les Moines 'The Monks'. and the old clubhouse could well have afforded accommodation for monks and passing pilgrims. 
So let's take a small walk  . . .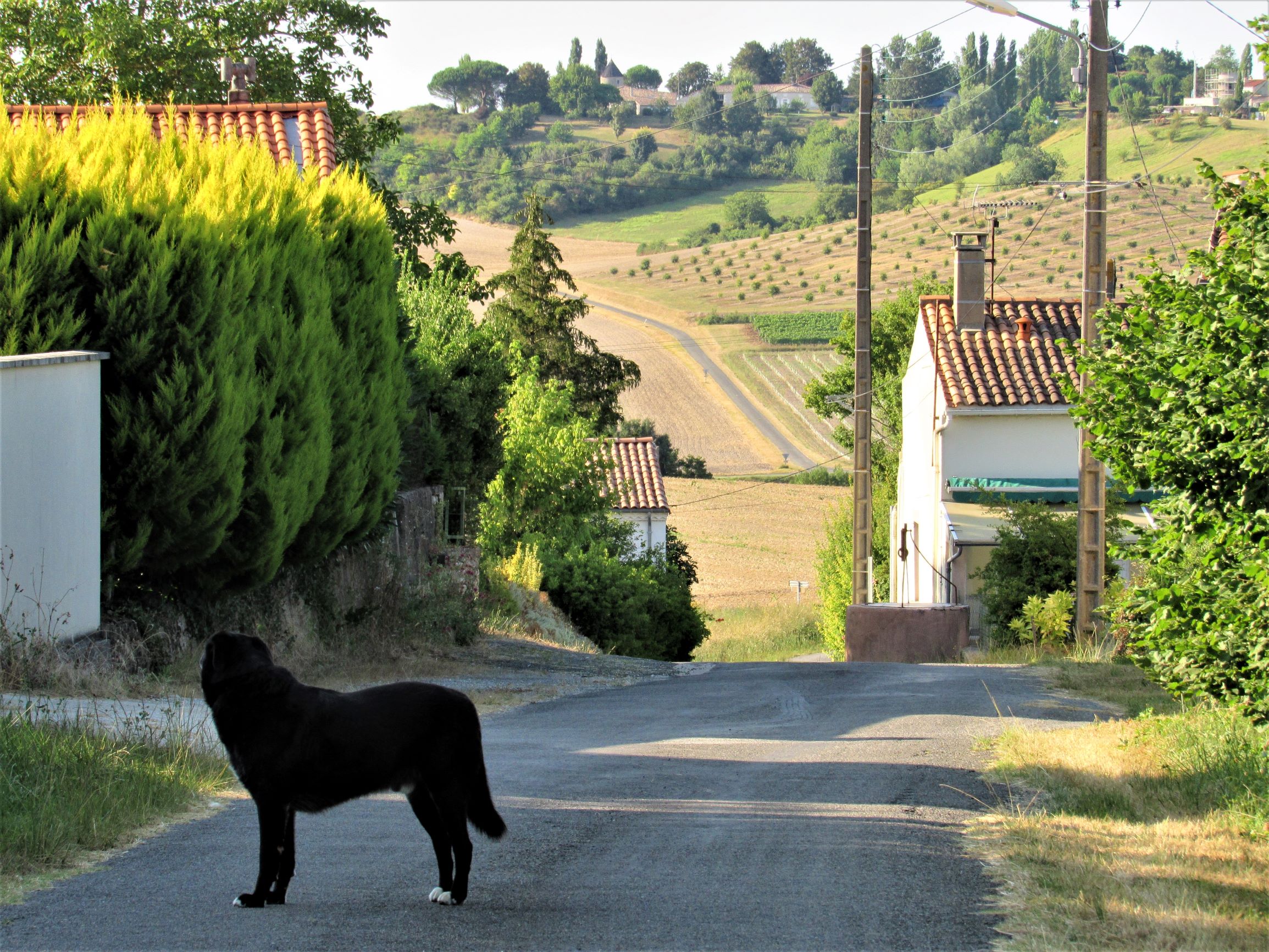 Sherlock in the nearby hamlet of Brochon. He often choses the way and as long as we keep up the 10,000 steps per day we're doing fine.
Walking the Dog through nearby Cadet Wood - Find Fido?
The dogs of la Rose Blanche are pampered pouches indeed. With so many beautiful woodland, rural and coastal walks to choose from; relatively traffic free byways and many dog friendly bars and shops to break the journey - it is a real pleasure walking the dog in any weather. The soils that favor growing grapes drain well and the high average annual sunny days means that even in winter one is usually spared the muddy tracks so familiar in the South East of England for example.