Residents Association
2019-2020

LRBRA - La Rose Blanche Resident's Association
LRBRA President's Message

"My wife and I have lived in France for the past 18 years, originally basing ourselves in Normandy - a beautiful part of France.
About 2 years ago, we discovered La Rose Blanche in the Charente Maritime and the good life. Set amongst the colourful sunflower fields, countless vineyards with their bountiful produce of rich ripe grapes. The landscape is one of gently rolling hills - It is a joy to behold.
Close to the historic city of Bordeaux and the seaside towns  of La Rochelle and Royan and with easy access to major trunk roads it is easy to explore this beautiful region's combination of seaside resorts, islands and historic towns and villages.
La Rose Blanche is a haven for the active and retired alike. There are many activities enjoyed by the residents - in the clubhouse, the large swimming pool, as well as events in nearby towns and villages.
With spacious plots, and friendly neighbours the majority of which are English speaking; it is possible to enjoy a quiet and peaceful life or get involved in the myriad of events on offer.
Any problems with the language, medication, taxation or the general French bureaucracy there is always someone onsite who will help you resolve your issues ….


Jim Ingoe President LRBRA 2018-2020

 . . . We personally have settled into the life here and feel that we are on holiday - every day! If you are thinking of changing your lifestyle to something better and more relaxed I would highly recommend that you contact us with a view to perhaps moving here to change your life for the better."

La Rose Blanche Governance
The La Rose Blanche park is managed by the La Rose Blanche  Residents' Association established under French Law. These management rights are contracted to the LRBRA by the owner of the site -Stewart Cook, whose title over the land is registered in France.
Under French law the LRBRA must have a Committee consisting of a President, Secretary and Treasurer.  These positions are mandatory and cannot be changed.
Additional positions are optional.  LRBRA Statutes currently include two optional elected positions - Clubhouse Steward and Vice President.
These positions can be changed if members of the Association vote to change the Statutes.
These positions and the right to vote are limited to paid up members - currently Euro 10.00 per person each year. However, by law. the LRBRA represents all residents of La Rose Blanche.

Volunteer Management Committee
Around August each year the residents of La Rose Blanche have an Annual General Meeting (AGM) in the Clubhouse to elect their Committee members for the coming year. Volunteers for these positions make known their intention to stand a few weeks before the AGM.
The current 2019/20 Committee are:
President: Jim Ingoe
Secretary: Lin Wilson
Treasurer: Joan Noakes
Additional Positions are:
Clubhouse Steward: Ann Jeffrey
Vice President: Wayne Noakes
The Management Committee: has overall responsibility for La Rose Blanche on behalf of the owner and all residents . . . 

---
Charter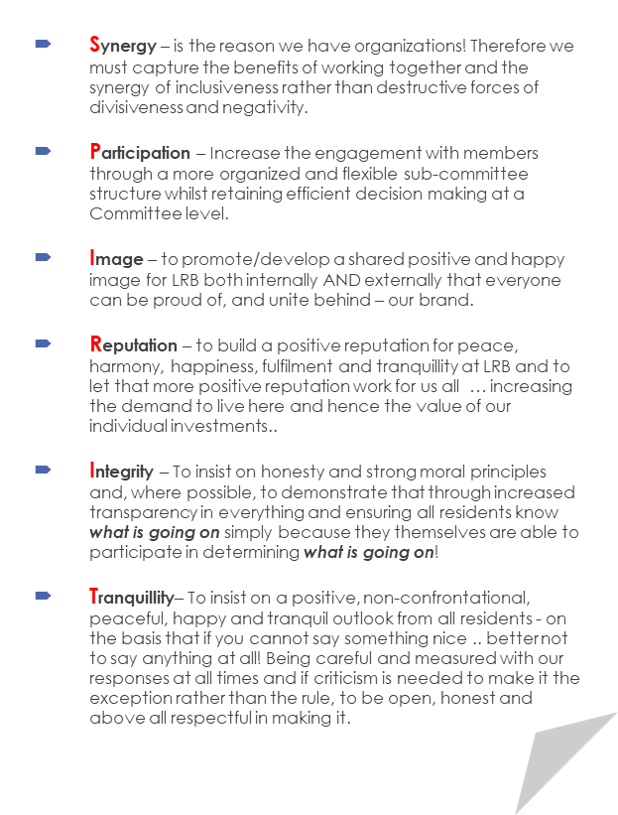 Mandate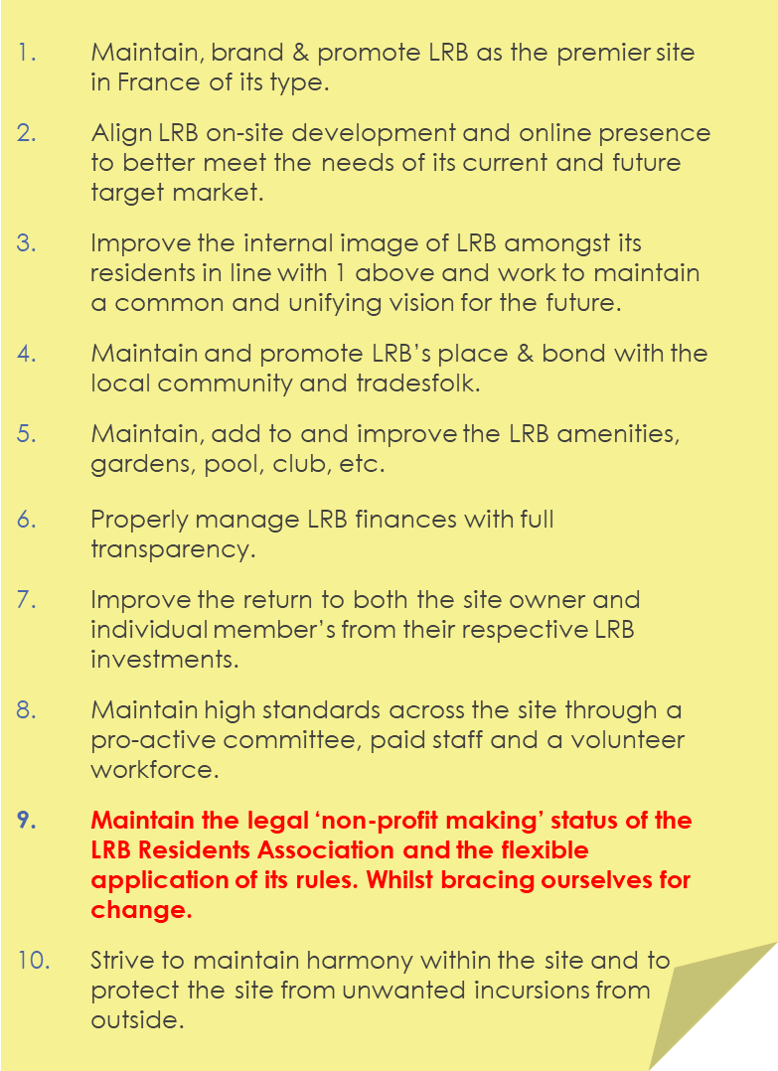 Previous Resident's Association Click Here 
Return to Home Page Click Here