Welcome to the LRB Cycling Group!
We're a friendly, diverse group including a wide range of ages, nationalities, levels of fitness and former professions who find common ground in a love of biking.
We have a weekly outing on Friday mornings throughout the Summer months. We enjoy relaxed socializing rides of varying distances, including a lengthy coffee stop on the way.

For a large area around La Rose Blanche there are beautiful country walking tracks, many of which are suitable for off-road cycling. Likewise, there are many longer cycle routes on roads that in contrast to many parts of Britain or Ireland are largely pot-hole free and have relatively little traffic. 

All adult ages and fitness levels are welcome.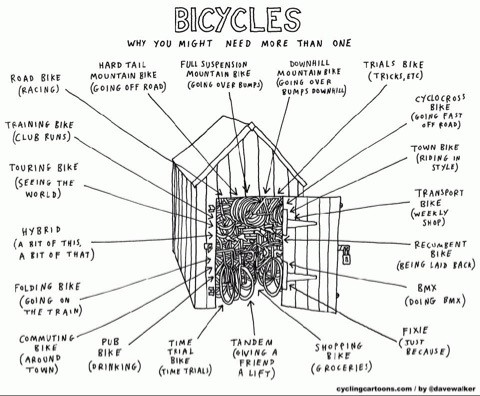 Pick a Bike . . . Any Bike
OK! So "Which B***** Helmet  Should I Pick!!"
---
Routes
Our routes start and finish in La Rose Blanche and vary in length from 10km to 60km. The roads are generally quiet and are mostly flat except for a few hills here and there.
We have the benefit of a couple of experienced cyclists in our group who know the routes really well and can advise on bikes and equipment where necessary. Don't let their experience put you off because we all, including them, enjoy the leisurely Friday morning cycle.
More challenging cycle rides can be arranged on other days to suit the fitter amongst us.
For someone starting off, we recommend the short trip to Mirambeau and back to get the fitness and bike sense before starting out with the group rides. We often do this trip ourselves to pick up a baguette or grab a coffee in the mornings.
Come join the fun and shed some pounds.

Below are some examples of the local Routes:

Essential Gear
All adult ages and fitness levels are welcome, road bike, mountain bike, electric bike and any mechanically sound bike will do but please ensure you carry this essential gear:
Helmet
Puncture repair kit
Spare Tube
Pump
Lock
Water
Coffee money
Sense of humour !!
Select Your Route
---
Cycle Route 1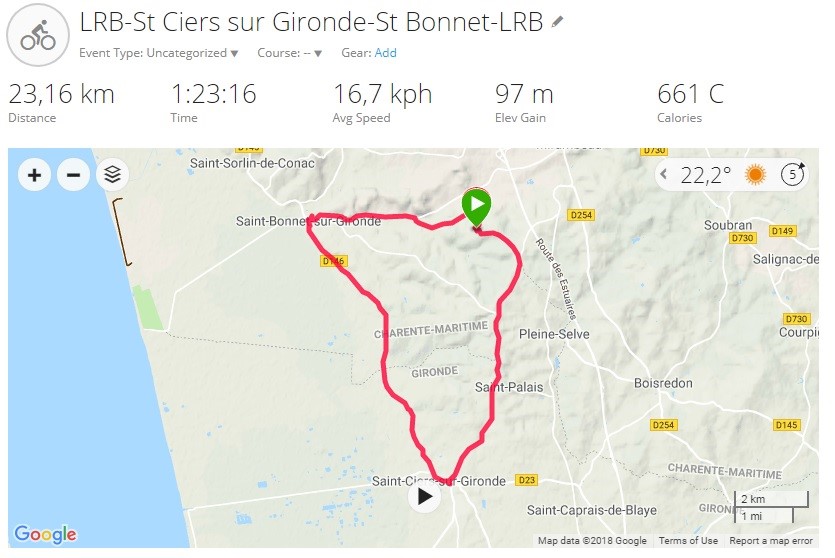 Return to Route Selector Click Here

---
Cycle Route 2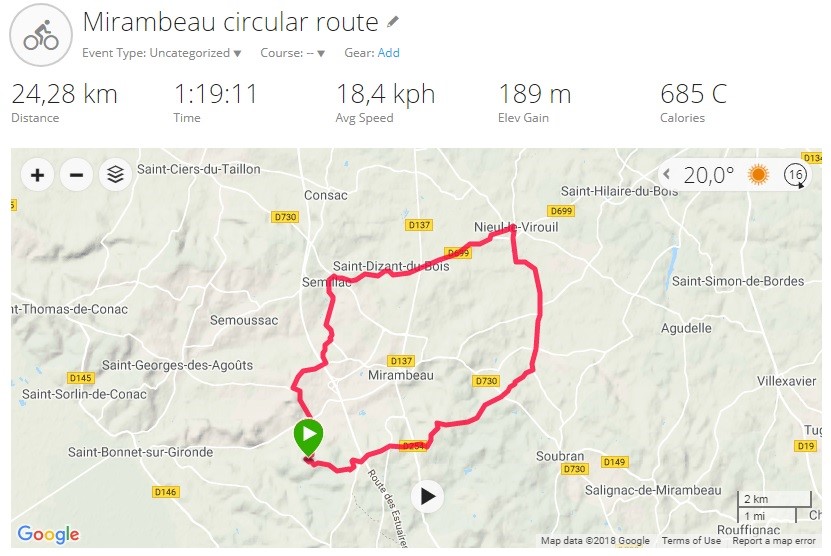 Return to Route Selector Click Here
---
Cycle Route 3
Return to Route Selector Click Here

---
Cycle Route 4
Return to Route Selector Click Here

---
Return to Top of Page Click Here
Return to Route Selector Click Here
Return to Home Page Click Here